Welcome to Detroit Randonneurs
When registering for the first time please register as a guest you will then be assigned a club membership number, all of your registration information will be stored for future use. This site takes a bit of learning to use at first but it offers many advantages to the club members and the Regional Brevet Administrator (RBA). It is also mandatory for you to be a member of Randonneurs USA (RUSA) to register join here to participate in our rides.
When finished with your ride please report your start and finish times as well as a link to your ride on Strava, Ride with GPS or what ever you use. You will receive an email with a link to report your times to our site. If you are unable to use electronic reporting please use the the brevet card, cue sheet or anything else to record your times, then send a phot with a email to tdusky@gmail.com.
Please Review the Rules for Riders and Article 10 and the RUSA Reflectivity Guide
2022 Ride Scheduel
Big plans for 2022
We are adding 6 new rides to our calender. Happy trails 142 populaire, Huron River Cruise 162 populaire and a 120k 8 hour Dart to our schedule to make the Rouler Award available. We have also scheduled a 100k and 300k Audax rides. A new route "Port to Port" in the thumb what will be the ACP 100 year of anniversary of the first 300k brevet, a special anniversary metal will be available for this brevet. We have a reservation at the ski lodge in Boyne Falls so we can make the trip up north for our brevets starting at the Lodge. We are adding a new 200k Brevet "Tip of the Mitt", that makes loop at the top of the lower peninsular which includes a beautiful trail along Mullett Lake and the Tunnel of Trees.
The RUSA Rouleur Award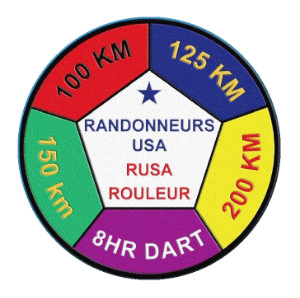 RUSA has added a new award category this year and we have added new routes to make it available. In the same calendar year, RUSA Rouleur recipients must: Complete a 100-124 km brevet populaire, Complete a 125-149 km brevet populaire, Complete a 150-199 km brevet populaire, Complete a 200-220 km brevet, Complete an 8-hour Dart populaire team randonnée of 120 km or longer. There must be at least three team members finishing the ride together for this event to count for the award. Super Rouleur recipients must be a current member of Randonneurs USA during the award period. All Super Rouleur counting rides must be Randonneurs USA calendar events. Award can only be earned once per Calendar year per member. Foreign events or permanents cannot be used to earn this award. Longer events cannot be substituted for shorter events (e. g., a 130 km permanent cannot be used for the 100-124 km counting event, or a 13.5-hour Dart team randonnée cannot be used for the 8-hour Dart team populaire.)
We are thrilled to bring randonneuring events to the greater Detroit area.
Randonneuring is long-distance unsupported endurance cycling. This style of riding is non-competitive in nature, and self-sufficiency is paramount. When participating in randonneuring events, riders are part of a long tradition that goes back to the beginning of the sport of cycling in France and Italy. Friendly camaraderie, not competition, is the hallmark of randonneuring.