Welcome to Detroit Randonneurs
It is mandatory for you to be a member of Randonneurs USA (RUSA) to participate in our rides, join here.
Dart Populaire — Saturday June 25
An 8-hour team event with a minimum distance of 120km, teams of of 3 to 5 cyclists (a tandem is one entry) all ride to Los Tres Amigos restaurant in Northville from various starting points. Each team must design their own route and submit it to the the RBA by June 20, Please contact me with your route and if you need help here, controls must be placed to avoid shortcuts. For more information please review the RUSA info page.
---
I'm excited to announce that the Detroit Randonneurs have partnered with TCA Team on an Oakley Eyewear Program. The TCA Team program provides a 30% Discount to members of the Detroit Randonneurs.
How it works:
Visit the TCA Team website

www.tcateamstore.com

Select the product(s) you would like to purchase and move them to the shopping cart

At checkout enter code:

DR

the pricing will be updated to reflect the preferred pricing for Detroit Randonneurs members.

Once the transaction has been completed the product will be sent
Questions:
Please reach out to info@tcateamstore.com if you have questions about the order process or would like to inquire about Oakley products that are not featured on the TCA Team website .
No Custom or Prescription orders – OAKLEY -

Email us the URL of the glasses you would like to order

10-14 Days for sunglasses not on the TCA Team website
Oakley: https://www.oakley.com/en-us
When registering for the first time please register as a guest you will then be assigned a club membership number, all of your registration information will be stored for future use. This site takes a bit of learning to use at first but it offers many advantages to the club members and the Regional Brevet Administrator (RBA).
When finished with your ride please report your start and finish times as well as a link to your ride on Strava, Ride with GPS or what ever you use. You will receive an email with a link to report your times to our site. If you are unable to use electronic reporting please use the the brevet card, cue sheet or anything else to record your times, then send a phot with a email to tdusky@gmail.com.
Please Review the Rules for Riders and Article 10 and the RUSA Reflectivity Guide
2022 Ride Scheduel
The RUSA Rouleur Award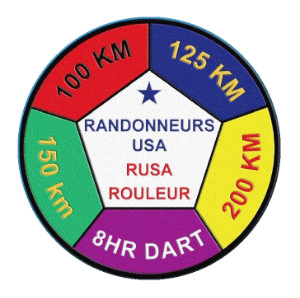 RUSA has added a new award category this year and we have added new routes to make it available. In the same calendar year, RUSA Rouleur recipients must: Complete a 100-124 km brevet populaire, Complete a 125-149 km brevet populaire, Complete a 150-199 km brevet populaire, Complete a 200-220 km brevet, Complete an 8-hour Dart populaire team randonnée of 120 km or longer. There must be at least three team members finishing the ride together for this event to count for the award. Super Rouleur recipients must be a current member of Randonneurs USA during the award period. All Super Rouleur counting rides must be Randonneurs USA calendar events. Award can only be earned once per Calendar year per member. Foreign events or permanents cannot be used to earn this award. Longer events cannot be substituted for shorter events (e. g., a 130 km permanent cannot be used for the 100-124 km counting event, or a 13.5-hour Dart team randonnée cannot be used for the 8-hour Dart team populaire.)
We are thrilled to bring randonneuring events to the greater Detroit area.
Randonneuring is long-distance unsupported endurance cycling. This style of riding is non-competitive in nature, and self-sufficiency is paramount. When participating in randonneuring events, riders are part of a long tradition that goes back to the beginning of the sport of cycling in France and Italy. Friendly camaraderie, not competition, is the hallmark of randonneuring.